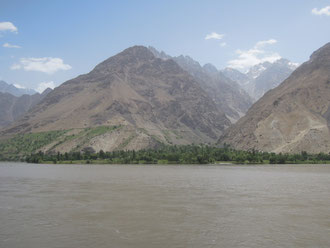 From Dushanbe it was first a very nice 110 km ride on sealed road for the first day. On day two the paved road stoped and for the next three days it was nothing but rocks, gravel and sand and every now and then a Chinese truck passing by. It is unbelievable that this is one of the two only roads to the Pamir. The landscape is beautiful and most of the time we have the roads for ourselves.
But not enough that the road is in a very bad condition, there is also an 3'250m pass to cross before getting to the Panji-Valley which marks the boarder between Tajikistan and Afghanistan. In the Panji-Valley the road is not much better: sometimes seald sometimes loose gravel sometimes a mixture. Signs of land mines warn not to get off the road at many places. Still a bad souvenir from the Russian Afghan war. And you better don't get off the road, there really are still some mines. Sometimes you see teams scanning the hills for mines.
Once over the pass we drive along the Afghan Border for four days. We always sleep in our tent, asking somebody to camp in the garden or look for a nice safe spot next to the road. Normally we go to sleep around 8 or 9 p.m., when it gets dark and we get up with the sun around 5 and 5.30 a.m. when the sun rises. After eight cyclingdays we were all a little bit tired and looked forward for some restdays in Khorog.
Now Fred, Wendy and I are staying at the Lalmo Guesthouse at Khorog, which I can recomend. Khorog lies at 2'100m and is the gateway to the Pamir Highway at 3'500-4'600m. It is good to have some resting days for relaxing and shopping before getting on the bike again.
all the best from the Pamirs
more information in German...