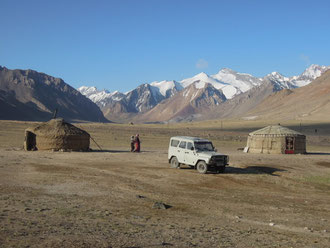 After two days in Khorog Fred & Wendy and I split because I had a less time in the Pamir on my visa, whereas they could afford a detour. From Khorog the highway starts climbing from 2'100m to some 4'200m. Already after two days a heavy dhiarrea forced me to make a stop at the hot springs of Jelandy, a so called sanatorium from soviet times in the middle of nowhere. After one day resting I continued and started the big climb to the first pass of 4'200m. After a few kilometers I met Fred & Wendy again coming down from a sidepass pushing their bikes down the really bad road...
We climbed together the pass and it was a great feeling entering the Pamir Plateau that would be for the next few days our road between 3500 an 4600m. Right after the top we split again because I wanted to make a little detour to a remote lake, so we said goodbye again the same day. The Pamir Plateau is a beautiful desertlike plateau surrounded by 6'000m and 7'000m snowcapped peakes with only few people living here and also little or almost nonexistent traffic. Beautiful and quiet up here.
The road after two weeks of bad loose gravel on the way to Khorog, the pamir highway was mostly paved with only little bits of no asphalt. At one time I had such good tailwinds I was able to make more than 100km on a single day despite a little detour with bad dirtroads. Camping on 4'000m was no problem, though one night it was quite windy and there was just an open field with almost no protection. But it was ok. The food- and watersituation was always ok. I could filter water from little rivers every day and I allways carried food for around two or three days with me and I stocked them up in the few little tows of Alichur and Murghab.
The highlight was the 4655m Akbaital (White Horse) Pass and the night in the beautiful Kyrgyz Yurt just after the pass. Although windy and sometimes even a little snow, in the Yurt it was perfectly warm an quiet. Very good fresh kefir, bread and Kyrgyz blacktea with yakmilk and salt there. After this it was only some 50km to the high and lifeless saltlake of Karakol. At this altitude surrounded by mountains the weather is always chanching and you can see rain and black clouds on the other side of the lake while here the sun is shining. Don't underestimate the altitude and the colder and windy weather. I met some cyclists that had some problems with it (cold, headache, feeling sick). Between Murghab and the border to Kyrgystan there is very little traffic: some days only 4-5 cars the whole day! I loved it.
After 10 days of riding through the Pamir I crossed the border to Kyrgystan on 13.7. and suddenly it went down from 4'200m to around 3'000m, the valley became very wide and green, horses, yaks and sheep where grazing on the pastures and eagles were sitting on the telephone poles next to the road. It was getting warmer and the body relaxed after the harsh Pamir clima.
In Kyrgystan I changed my bike for a horse and went for a two day horse trip to the foot of 7'200m Pik Lenin and spent a night there in a Yurt. It was the first time I was sitting on a horse and it was ok. Not to different from camels or bicycles...
After a week I said goodbye to Turdubai and his family where I stayed the last few days and made my way to China. I crossed the border on the 19.7. without any problems and felt very welcome in China. On the Chinese side from time to time a group of camels crossed the road and the scenery got again more desertlike with few green and hardly any villages. From the border it was still a two days trip down from 3'000m to 1'400m to Kashgar, an important Silkraod town at the edge of the Taklamakan desert.