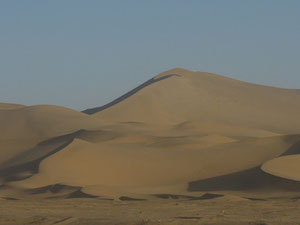 After about eight days in Kashgar I left the city last saturday by train and yes i am fine and left just before the riot and the shootout in Kashgar city. It must have just happened the same day I left town by train. I have sent my bicyle by train some days before I took the nighttrain to Turfan, with -150m above sea level the lowest point of my journey. From there the journey went on by bus through the Taklamakan Desert to Dunhunag also know as City of Sand...
So now I am sitting in the oasis Dunhuang and am waiting for my bicycle to arrive by train which will hopefully happen tomorrow. Dunhuang is a very nice city with a great night market (good food!), so it's ok to spend some time here. Also there are a few nice spots to do some sightseeing like the 1'000 buddhas caves.
All the best from Dunhuang!