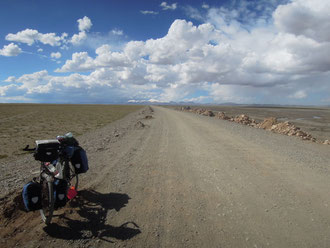 After more than one week of hassle we - the two canadian girls Mel and Kate and I - got our bicycles back in one piece, we were ready to start to the Tibetan Plateau from Golmud. The Chinese railway had sent our bikes to Lanzhou instaed of Dunhuang. And it takes a while to find out this when nobody speaks english.
I decided to ride with the two Canadians up to the plateau and then turn east to Yushu and not to go into Tibet province. But still we had to pass one first checkpoint about 35km after Golmud. So we just disguised as Chinese cyclists - totaly covered with helmet, sunglasses, dustprotection, long sleeves and gloves - and just tried... and it worked! We passed at dusk at around 7p.m. the checkpoint and camped some kilometers after behind a abandonned gas station. The next evening the Chinese Army came when we were about to put up our tents somewhere next to the road and we thought "Now that's it, they will send us back" But instead they called a Chinese soldier who could speak some English and when he was here he came to us and said: "Welcome to this country! I am sorry you cannot camp here, this is military zone. But you can camp about 2km from here. Can I do something else for you?" The three of us were speachless... and of course we went up 2km and camped next to a Daoist temple. It took us four days to get up to the plateau because of the altitude (not more than 500m a day starting at 2'800m). The Kunlun Shanku is 4'760m and then we were on the Tibetan Plateau...! After the pass it didn't really go down. So you just stay on about 4'500m. We split the same day in the afternoon, when I took the turnoff at Budongqan to ride alone 750km to Yushu through nomans land.
I was not so sure about the road, because it is not on every map and on googlemap you could see something like a road sometimes... also in the internet I could not find any information about it. The road went along one of the arms of later Yangtsekiang river. So flooding could be possible, which would be a problem if there were no bridges. The first 200km there was no village at all and on the 750km to Yushu there were about five villages on the map... So I carried food for about 8 days (!) with me in case I got stuck somewhere. There were lots of wild animals: antelopes, wild asses, eagles, vultures and even two wolfes... and a lot of Yaks all the time.
As I got more into the greener hills towards Amdo the clouds became more and soon rain in the afternoon or night was normal (July and August are "rainy" season here). The ride was often pretty lonely through the hills but the road was much better than expected. It was always between 4'200m and 4'800m with about 8 passes or so.
Just before Yushu I camped with some Tibetan monchs who had some sort of a festival with tents and ceremonies. And there somebody stole something from my bicycle. In the evening, when I realized it I got very angry and I said with loud voice to some of the young monchs who were staring and laughing at me, whoever has taken it should give it back. It took some time and some elder monchs who showed up too until one of the monchs said, he had seen it laying somewhere... (it was screwed to the bike). So in the evening one monch brought it back and I could go to sleep.
Now I am in Yushu that is still totaly destroyed by the last year earthquake. Most people still live in blue tents from the government and from the city there is not much left over. There is construction everywhere, so when the frequent rain comes everything gets really muddy here and when the sun dries the mud everything becomes dusty... It was quite difficult to find a hotel here. I just found out today that the visa extension is no longer possible to do here in Yushu and my visa expires in five days. So I have to take the nightbus to the closest city where I could do it, which takes a 16hours busride from here...
So I just decided to use this occasion to make an excursion to Hong Kong for a week and come back to Yushu with my 40 days double entry visa and continue by bicycle south to Ganzi, Litang and Shangri La, where it should be no problem to extend the visa for 30 days.
All the best from Yushu!