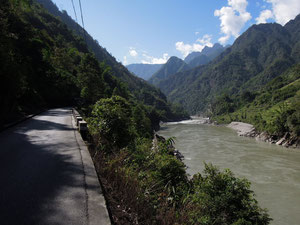 After the incredible two days crossing of the mountainrange between the Mekong and the Nujiang river I was in a deep valley which goes straight from north to south, surrounded on both side by 4'000 to 5'500m high snowmountains. In the valley there is only one road, no junction for a few hundred kilometers! The Nujang valley is rather a canyon than a valley and there is not much more room than for a river and at its best for a road. And if you think cycling down a valley means easy cycling down all the way you're wrong: I was climbing still everyday between 400 and 1'300m! The road next to the river just goes up and down and of course a little bit more down than up.
After five days cycling in a narrow valley I got a little bit depressed. Everything is so narrow, you see so little sky! By then I had arrived to the second junction and I took the chance to leave the valley to the west. Starting at 650m between banana and coffee-plantings I started climbing over the next mountain range. And I climbed and climbed and climbed... By 5 p.m. I had arrived at the pass at 2'150m, surrounded by rainforest. I spent the night up there and the next day it was going down to 1'000m and up some 1'000m again! That's the way it works here. I still made it till Tengchong on the same day.
Tengchong is interesting because it lies at the border of the Eurasian and the Indian plate. So there are some nice exstinct volcanoes, geysirs and hot springs and a lot of coniferforest again.
But after all I feel like leaving China after three and a half months and head for an other country, an other culture: To Southeast Asia!