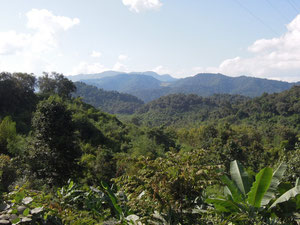 Just arrived yesterday after a 120km ride here in Luang Prabang, the most visited city in Laos. And it is very visited: Lots and lots of tourists here who fly in directly by plane. First I was looking forward to get some backpacker luxuries like pancakes and good coffee but after a day I just think of leaving the town as soon as possible again... It is a nice and relaxed town but just to touristy.
The first day in Laos I crossed the border and camped in some bamboohut in a rubberplanting for two nights because it was raining one day. The next day camping in a bamboohut over some old cornfields with a beautiful view for the sunset and the fullmoonset! Alone in the midst of the jungle. Laos is so little populated that camping is again no problem but you always have to have some extra food with you for picknick, lunch or dinner. There are just not as many restaurants as there were in southern China.
So soon I will head further south and hope to cross all of Laos within 30 days and get to Cambodia to visit there the mother of all temples: Angkor wat!
with love from Laos