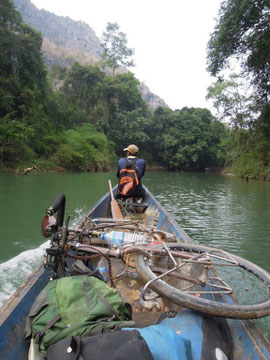 Laos is great! Especially the people here are very laid back and very heartily. When I cycle through a village from the houses on the left and on the right what you hear is children shouting "falaaang!" and "sabaidee!" which means "foreigner!" and "helloooo!". I would describe it like this: In the Stans people would always invite you for tea, in Tibet people were nice but dogs were barking and chasing you from the left and the right, in China people were looking at me as if I was an alien and here people greet you whereever you go. Great!
I am currently riding with Wolfgang a German cyclist and we had an excellent ride around the famous Kong Lo Cave. This is a cave made by a river that just flows through a mountain range. 7.5km long and dark as in a cow's belly we put our bicycles on the boats that took as on a 40minutes ride through the cavernlike cave to the other side, where there is nothing but a little village with houses on stilts and thick jungle. The next day we cycled 50km on narrow single trails through this rainforest. There were no direction signs and we were riding on intuition and geographical direction untill the road just disappeard in a lake... Luckily the next day some fishermen shiped us some kilometers across the lake where the road reappeared. Beautifull landscape! After an other 20km on washed out dirtroads through the forest we found some decent aspahlt roads and joined the route 13 again by sunset.
Furthermore there is some good coffee, french baguette and crepes here in Laos since it once was an French colony. And the Beer Lao is delicous too. The only thing I don't like that much are the ants crawling wherever you put your tent and the mosquitos just waiting to eat you up...
I am at the very southern part of Laos now and will enter Cambodia about next week.
All the best and relaxing pre-christmas-time!
philipp