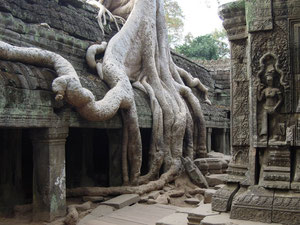 After a few days in the capital Phnom Penh I headed northwards again, direction Preah Vihear tempel at the Thai-Cambodian border. I was prepared to meet some bad dirtroads in the remote junglearea of northern Cambodia, but what I found were newly paved roads with almost no traffic through remote areas, through forests and little villages for most of the time. Great ride for five days to get to the tempel, where I could camp next to the army hospital.
Preah Vihear tempel is still occupied by Cambodian army and the border to Thailand is closed. The last incident with some artillery was only last february. But now it is peacefull and quiet here and the temple on the 600m high mountain is really beautiful. The view over the flat land is awesome.
After this I headed southwest to the temples of Angkor, taking the countryroads. In the overgrown ruins of the tempel of Beng Mealea - looks like a setting from Indiana Jones or Tomb Raider - I put up my tent in a quiet corner and stayed overnight. The next day I arrived in Siem Reap (Angkor tempels).
The sheer amount of 1'000 year old temples around Angkor is just so big, I needed three full days to visit most of them (but not all!): Angkor Wat, the ancient city of Angkor Thom, Bayon, the Elephant Terrace, Ta Prohm and, and, and...
So today it's christmas day and I enjoyed doing nothing, reading and relaxing at the pool on the top of my 10dollars-guesthouse. Just great!
Merry christmas and a happy new year!