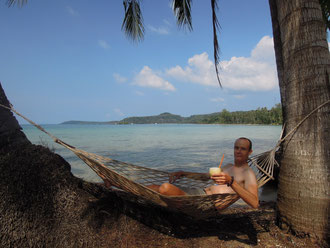 After more or less eight months and 8800km of cycling I have reached the crystal clear waters of the Gulf of Thailand.
After two weeks in Chiang Rai I missed my bicycle. So I took a bus down to Bangkok again just to take my bicycle on the train and head for the Cambodian border at Aranya Prathet where I crossed the border three weeks before. I decided to make a little detour through Cambodia before heading south to the sea. I passed through the colonial City of Battambang and continued from there south to the borderprovince of Pailin, known for gemstones and beeing the last "Khmer Rouge Resort". From here I cycled straight down to Trat at the Gulf of Thailand and took a boat to the remote jungle-island of Koh Kut (picture).
The Island is the perfect lonely-beach-paradise and endpoint of my pilgrimage from the Central Asian deserts over the Himalayan Plateau to the jungles of Southeast Asia. So I pass my remaining days here at the white beaches of Koh Kut.
On february, 2 my flight leaves at 7 p.m. from Bangkok International Airport direction Switzerland...