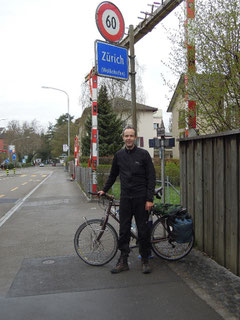 Going for a big journey is one thing, but coming home is another. Just today I've got a qoutation from Albert Camus from a cycling buddy:
"What gives value to travel is fear. It breaks down a kind of inner structure we have... Far from our own language, stripped of all our props... we are completely on the surface of ourselves. But also, soul-sick, we restore to every being and every object its miraculous value."
I think this is very true and gets the very point of the adventure of going for a big journey. And now coming home is another adventure. And it breaks down another inner structure again. After so many months on the road with no home but the tent or a hotelroom, the routine of getting on the bike every morning, looking at the sky and the weather, the impression of so many so different people, animals, landscapes, sounds, smells coming home is like another big adventure. An adventure at least as big as the going away. Coming home with all these impressions, life will never be the same again.
After two months of asylum at my parents house in the north east of Switzerland I found a place to stay in Zurich in April. So it was time to go for the last bit of my journey: riding the 80km back home to Zurich. I took some small roads through the hills of the Hinterthurgau, crossed the Lake of Zurich on a ferry and reached Zurich Wollishofen almost exactly 10 months after I have left the town by bike (see photo).
This is the end of my journey.